Why choose SNM?
We offer courses and projects for students with an interest in the classical disciplins zoology, botany and geology, as well as other areas such as citizen science, biodiversity, genomics, evolution, palaeontology, and conservation.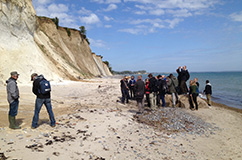 The teachings are based on the newest research and are complemented by excursions and hands-on exercises, offering you an opportunity to try out applied methods firsthand. Both courses and projects offer unique opportunities to meet a wide range of strong research environments, and you will visit or maybe directly use the great natural history collections, as these are often part of the teachings. 
Courses and projects at SNM are aimed at students who wish to explore and illuminate the biological and geological diversity.